Bespoke Wedding Photographer of the Year – Simply Wedding Awards 2016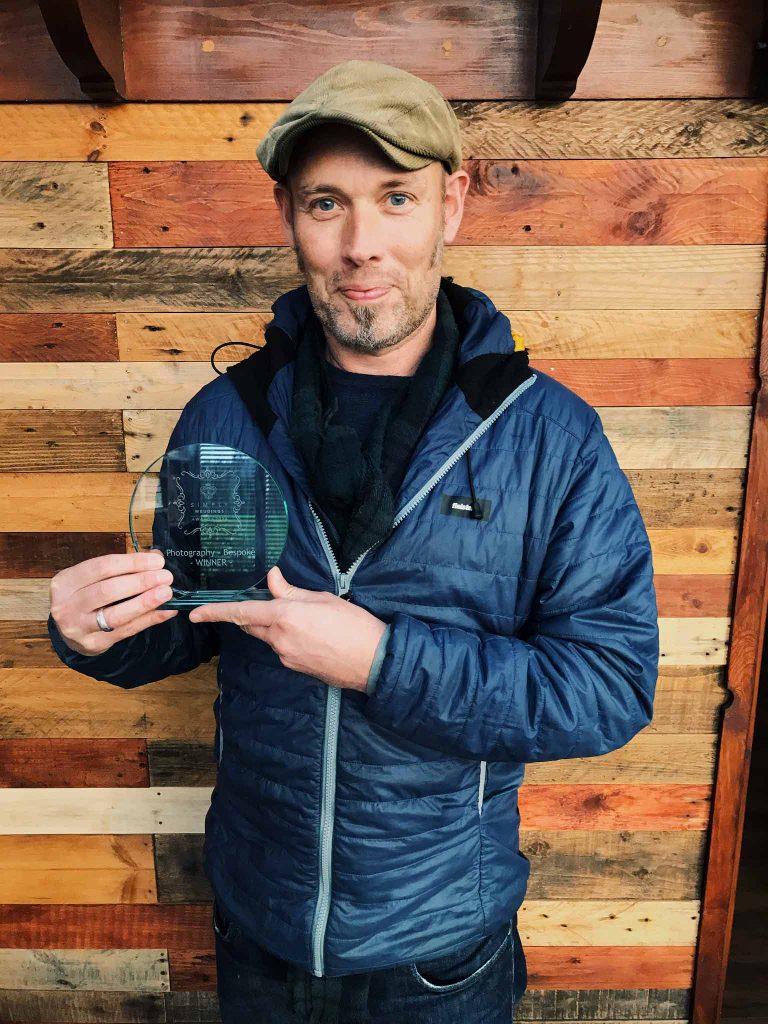 So how was 2016? Well, it really was a great wedding year for me. I have been fortunate to photograph some incredible weddings and work with some awesome brides and grooms. That in itself would be more than enough. I was therefore totally overwhelmed to discover that I had won the 'Bespoke Wedding Photographer' category at the Simply Wedding Awards 2016. Voted for by both brides and grooms and professionals within the wedding industry, it was an incredible honour to be even nominated. To then win, was just amazing. It was a real shame that I had to miss the awards ceremony, due to the fact I was photographing a wedding on the same day, oh the irony! Here, however, is a picture of me picking up my award the day after the ceremony.
The good folks at Simply Weddings have been kind enough to share some of the comments made by the brides and grooms that voted for me. The fact that they voted and their kind words really mean a lot to me. So here is just a big 'Yay' from me to the brides and grooms of the last couple of years. You were all awesome.
Toby was fantastic. We met with him twice prior to the wedding and it felt like having another friend at the wedding. Great guy.
Toby was outstanding before during and after our ceremony. Going the extra mile. Everyone commented on his skills throughout the day. He is a friendly, fun and up for anything – we even got him in the ocean! The photos are beautiful and he captured so many special moments especially the off the cuff gems that happen on the day. Highly recommend him.
Toby was just fabulous. He stayed all day. If felt like i had a family friend with me. I would recommend toby to all brides and grooms. And will invite him to take family pics at some point.
Toby not only took absolutely stunning photo's of our day that captured even the smallest, most precious moments, but he made us feel like friends from the outset. On the day, it felt like we'd asked an old friend to take our photo's, with even our guests commenting on how amazingly lovely he is.
We would never hesitate in recommending Toby to anyone looking for a photographer; he is amazing.
Not only were Toby's pictures beyond anything we could have hoped for, but he was also a fantastic addition to our wedding day and we loved having him as a part of it! So many of our guests commented on how friendly he was, he made everyone (especially us) feel completely at ease and the resulting pictures are simply amazing!!
Toby made everything easy and was a mixture of 'funny chatty guy to total professionalism
We really enjoyed working with Toby. He was a lot of fun and even rowed us across a lake while taking photos of us!
Toby made us both feel so comfortable, can he made sure we created the most natural moments for him to capture. We wouldn't have wanted anyone else!
Toby was fantastic. He made us feel totally at ease in front of the camera and captured the natural photos of the day and our guests, as well as some beautiful classic shots. We're over the moon with the results – each photo evokes so many happy memories from the day and is much more than just a 'pretty picture'.
Toby took all the pressure off us and we knew we could leave all the photography decisions to him on the day having discussed the scenarios beforehand and got to know him and his working methods.
The resulting photographs were fantastic with them all showing how relaxed everyone was with Toby around. This was backed up by comments from the guests NOT prompted by us.
The main comments were 'didn't notice he was there', 'very friendly', 'directed us easily', 'what a lovely chap'
I felt that he fitted in more like a friend than a 'supplier' at the wedding which is how we wanted it to work but was unobtrusive at the same time.
Toby made the whole process easy and enjoyable. He was always available when we needed him and he was both professional and approachable. Toby's local knowledge was reassuring for us, being from London. He was so laid back and easy to work with and all of the guests commented on how great he was on the day. He really added to the occasion. The quality of his work is incredible. He's a very talented man!
Toby made us feel at ease from the moment we met him. He is incredibly personable and is extremely passionate about his job. He offered advice on all aspects, yet let us be ourselves and try some things that we wanted to do.
An absolute gem in the Industry, highly recommended.
It was great to meet Toby face to face when I was looking for our wedding photographer rather than settle for a phone discussion. It really put me at ease that he would be the right person for us on the day. On the big day, he was really enthusiastic and had the right balance of organising (often unruly wedding guests!) during the formal photos and standing back to take more documentary photos of the day. Our photos are really great and capture the fun that we had on the day. I am really glad that we chose Toby as our photographer.
Having Toby photograph our wedding was the best decision we could have ever made. Among with being so kind, friendly, encouraging, a dream to work with, he took the most beautiful photo's we could ever have imagined. He caught moments we missed ourselves, meaning that looking through our photo's is such a treat and privilege every time. After the wedding day, your photo's are the thing that last, and we couldn't have picked a better photographer to make those memories so perfectly documented and beautiful.
Toby was totally sympathetic with our requests and understood exactly what we wanted in term of the look and style of the photos and the atmosphere of the day. His instructions on what he needed from us were clear and precise and his communication from the start until the delivery of the photos was excellent. The photos were with us very quickly after our wedding, and captured perfectly what we had asked for.
A hard working and genuinely nice guy. As someone who's not a fan of having their photo taken, after working with Toby I know longer have this problem and as a result our wedding photos are amazing. Also the only item we have to back up our memories of the day and he did an outstanding job.
My husband and I have recently had our wedding photos back from Toby and we sat down together and relived our day. Toby seemed to be everyone at once and able to capture so many fantastic moments that we hadn't seen as well as following us to get all of our special moments. We loved having him there for our day, he became one of the guests, one of our friends and so many people there commented on how amazing our photographer was and thought we had known him for years based on the rapport he had built with us. I always thought it would be strange and uncomfortable to be the center of attention with someone photographing you constantly but it didn't feel like that. Toby has a fantastic character but he can equally be invisible when he needs to be in order to capture the real moments
We felt so lucky to have Toby as a part of our wedding day. He met with us twice before so by the day he felt more like a friend than our photographer and most of our family and friends said to us how lucky we were to be able to call in a favour like this from a friend.