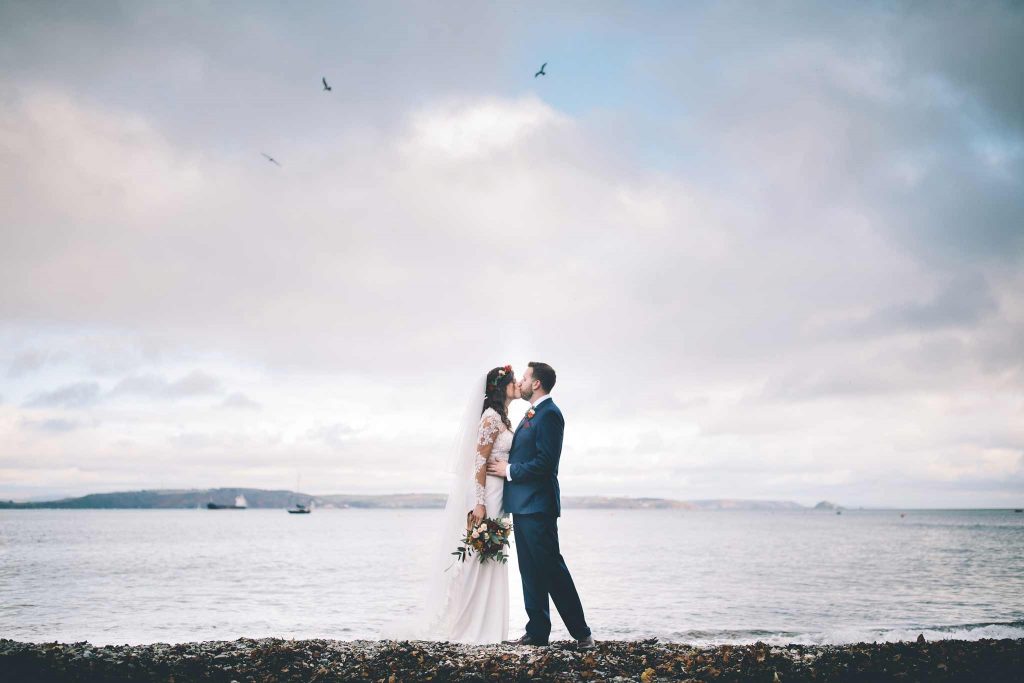 Katie and Paul chose the award winning Polhawn Fort as their wedding venue. Anyone who has followed my wedding photography will know that this is a popular venue with me. Perched high above the sea on the Rame Peninsula in South East Cornwall, this romantic converted Napoleonic Fort is utterly unique. With winter weddings there is always a focus on the weather. My tip is to embrace the day, some of the funnest weddings I have ever photographed have been the wettest ones! Luckily Katie and Paul's day had chosen to be dry (but with a slight winter chill to keep everyone on their toes).
The day, as always, started with hair and makeup. One of the great things about Polhawn is that it provides accommodation for both the bridal and groom parties and the ability to book the venue for a couple of days before and after the event. Ordinarily the two wedding parties will be in different parts of the forts. Unlike most couples, however, Katie and Paul had no problems with seeing each other before the ceremony. For me, flitting between the two groups involved just stepping through a door. What a relaxed start to the day! I was glad to discover that adding a dash of colour to the winter light on the day were flowers were by the very wonderful Twigs and Greens (they are well worth checking out).
For the ceremony, the couple had decided to get married in the church at Cawsand. Taxi's ferried the wedding party down the road to the beautiful church on the edge of the village. I always enjoy yhe challenge posed by church lighting – it is one of the things that makes every wedding ceremony photographically so different for me. Ceremony  over it was time to block the road with confetti. Wedding guests and locals alike applauded the couple as they were showered in confetti as they walked down the road.
With the ceremony at Cawsand we decided for a slight change from the usual beach bride and groom shots at Polhawn. Ordinarily, I would take advantage of the secluded beach just below Polhawn Fort. The opportunities provided by the beach at Cawsand were, however, to much temptation. Looking across the Plymouth Sound to the coast of Devon, I love the photos we got there.
With the wedding party safely back at Polhawn Fort, it was time for drinks on the lawn, the wedding breakfast and speeches. Catering was provided by Polhawn favourites The Round Kitchen – their food is just superb. With the band having arrived, it was first dance before the entire wedding party hit the dance floor. As always, Polhawn Fort was rocking. As I drive back around the bay I could see the lights of the fort shining out in the darkness. Winter weddings? Rain, wind or maybe just a crisp winters day. I love them.