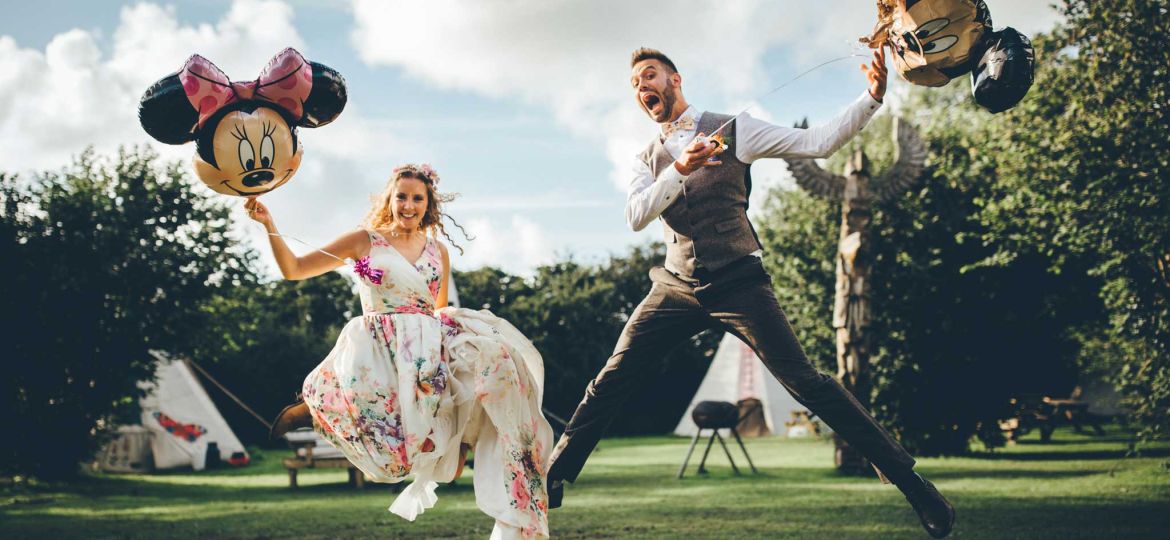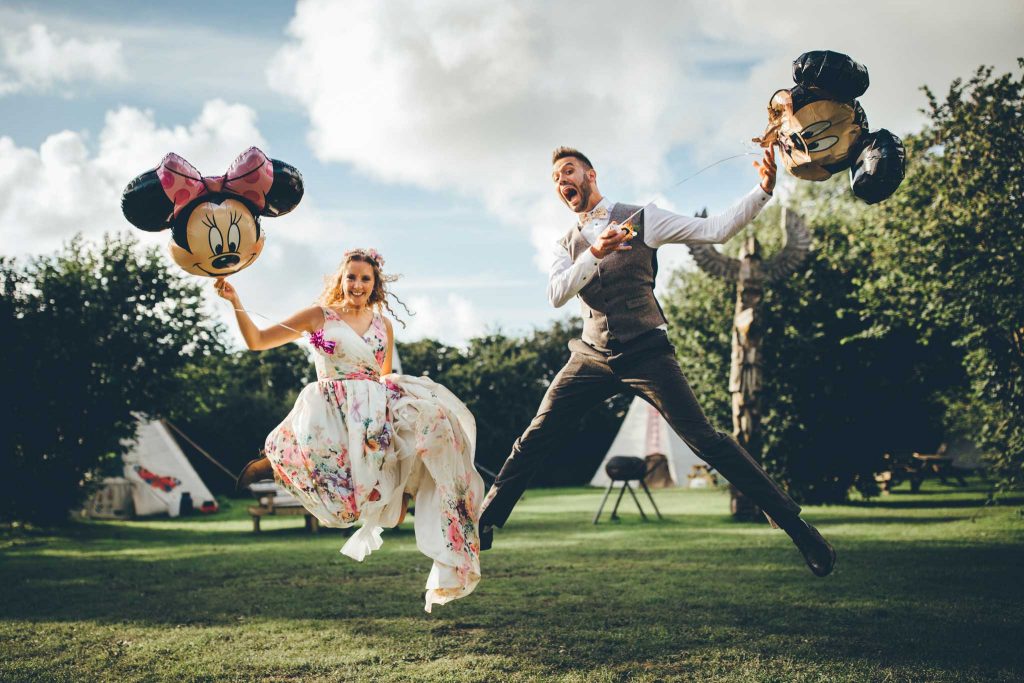 Tipis and a Disney theme. Lisa and Steven's wedding at Cornish Tipi Weddings was certainly unique. With hidden valleys full of hidden Tipis a Cornish Tipi Wedding is always going to be slightly different. Lisa prepared for the day in the main reception marquee. A tipi had also been bought into service for additional bridal makeup. Throughout the day subtle references to the brides favourite Disney films had been cleverly woven in. See if you can spot them in some of the photos below. I'll give you a clue to start off. Toy Story is definitely one of them.
Lisa had chosen a stunning floral wedding dress from dress designer Charlotte Balbier. It is always fantastic to see brides breaking from the convention of a pure white dress. Lisa's dress fitted the day beautifully. With the hair and make up completed the bridal party prepared for the walk to the ceremony area at the bottom of the valley. A Cornish Tipi Wedding has the bonus of a wedding ceremony area in a beautiful wooded glade. It was a brilliantly sunny day. Despite that, wellies were required for the walk. In fact, I am convinced that no Cornish wedding is complete without a pair of wellington boots.
The ceremony was followed by drinks in the wooded glade before Lisa, Steven and I headed off to the flooded quarry nearby. The lake is incredibly tranquil and is just another example of what makes a Cornish Tipi Wedding so special. With both Lisa and Steven in one boat and the good people from I Do Film Weddings and I in another we rowed across the lake. With the sun blazing down it felt like we could stay out there all day. As with all good things though, it had to come to an end.
What followed was a wonderful festival wedding reception. Fun Fair Games, an ice cream truck, juggling and more. All the time the sun was blazing down on the wedding party. Once the wedding breakfast and speeches had finished, the festivities continued with dancing and serious partying. It was the perfect end to a Cornish Tipi wedding. Enjoy the images from Lisa and Steven's day. 10 points if you can spot all the Disney references.