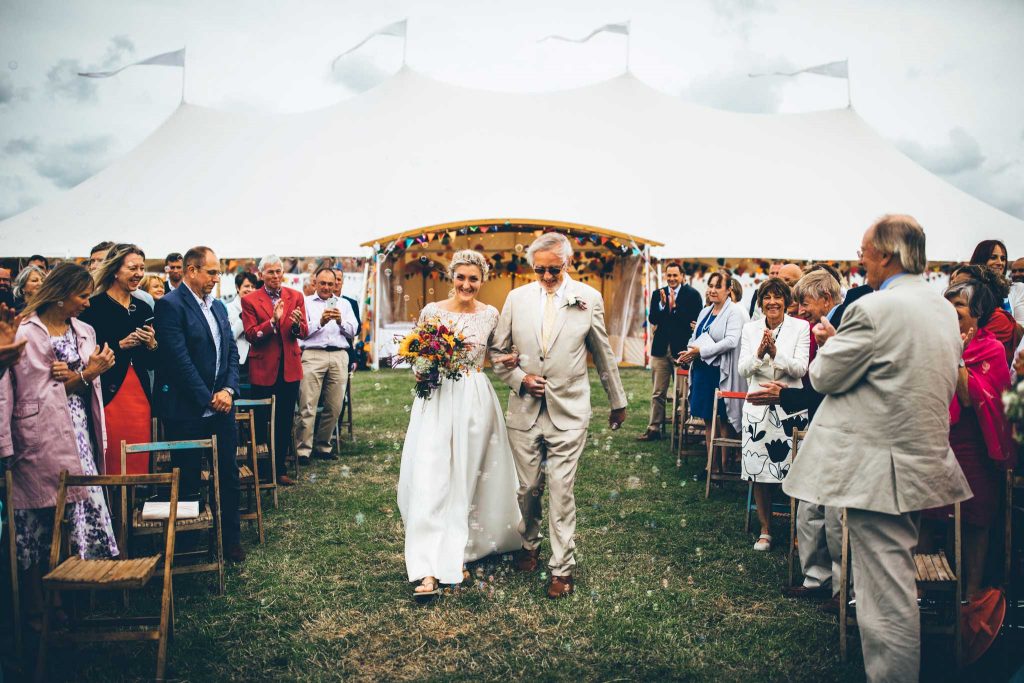 Perched high above Mawgan Porth, Bre Pen Farm is a stunning venue for those who wish for a marquee wedding with a festival feel. In fact that the beauty of a Bre Pen Farm Wedding is that it literally provides a blank canvas. That is a blank canvas with the backdrop of a spectacular view across the Cornish coast and the Atlantic.
Rory and Sarah had set out to create a wedding that would rival all others for being the best wedding party ever (we'll find out whether they succeeded later in the blog). A big top circus style marquee provided by the Cornish Tent Company and hot tubs all waited for the wedding guests. 

To add to the festival vibe, Rory and Sarah had opted for an outside wedding conducted by the very wonderful Cornish Celebrants. There were some lovely touches to the ceremony. Rory and Sarah's dog Tuareg delivering the rings, a ceremonial knot tying using a tug of war rope (that knot, just like Rory and Sarah, is never coming undone) and, a first, flower girls and page boys dressed as super heroes escorting the bride down the aisle (well at least running at full pelt in front of her). I am sure there has never been a Bre Pen Farm Wedding quite like it and why I love being a Cornwall wedding photographer.
With the ceremony completed the wedding breakfast was set to begin. This is where Rory's ingenuity really kicked into gear. It is certainly where Rory created one of the most unique weddings I have ever been to. Weddings can be an interesting study of human behaviour. One thing I have noticed over the years is the way people mix (or sometimes do not mix). Rory had a simple solution to this. Each guest had a brown paper bag under their seat. At the chosen moment they were asked to open the bag and take out the fancy dress items they found inside. Harry Potter, Egyptians, Game of Thrones, Pirates. There were so many different costumes. Once dressed the guests were asked to find those that were dressed the same as them and move tables to sit with them. In one fail swoop, Rory and Sarah had broken down all social boundaries. The lovely twist is that, although they had seemingly randomly mixed their wedding guests, each table had something which they all held in common. The challenge to the guests was that they had to work out what this was. I loved this idea. It instantly created new friendships and worked like a bizarre wedding guest speed dating session. Brilliant.
One potential hazard of a Bre Pen Farm Wedding is the weather (actually that is a hazard for any wedding in Cornwall, there are no guarantees). But a marquee on a cliff top does have the habit of being slightly exposed. However, with the right marquee you can will be warm and dry. As the evening reception started the rain began just as the incredible 'Mad Hen' kicked into gear. Wow, what a band. Just amazing. They literally had the whole marquee up and dancing. This is what I truly love about be a wedding photographer Cornwall – the Bre Pen Farm Wedding that people will talk about for years. In fact, at that moment, the wedding completely went from wedding to festival. It was like being at Glastonbury on a Saturday night. Just incredible. 

So the question that I posed at the beginning of my blog. Did Rory and Sarah create the best wedding party ever at their Bre Pen Farm Wedding? Have a look through the images and see what you think. The challenge is, can you beat it.