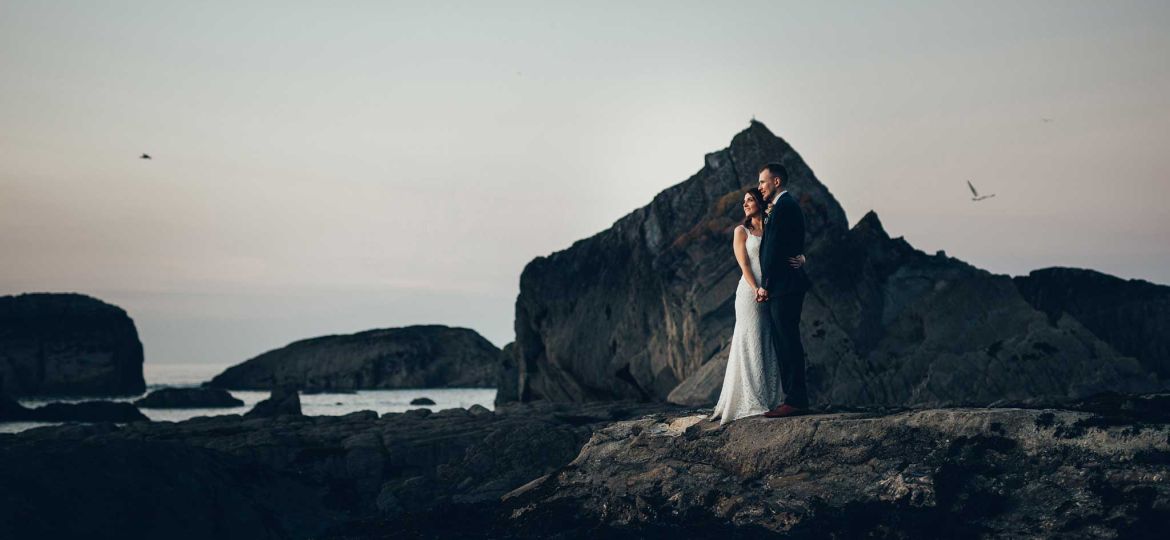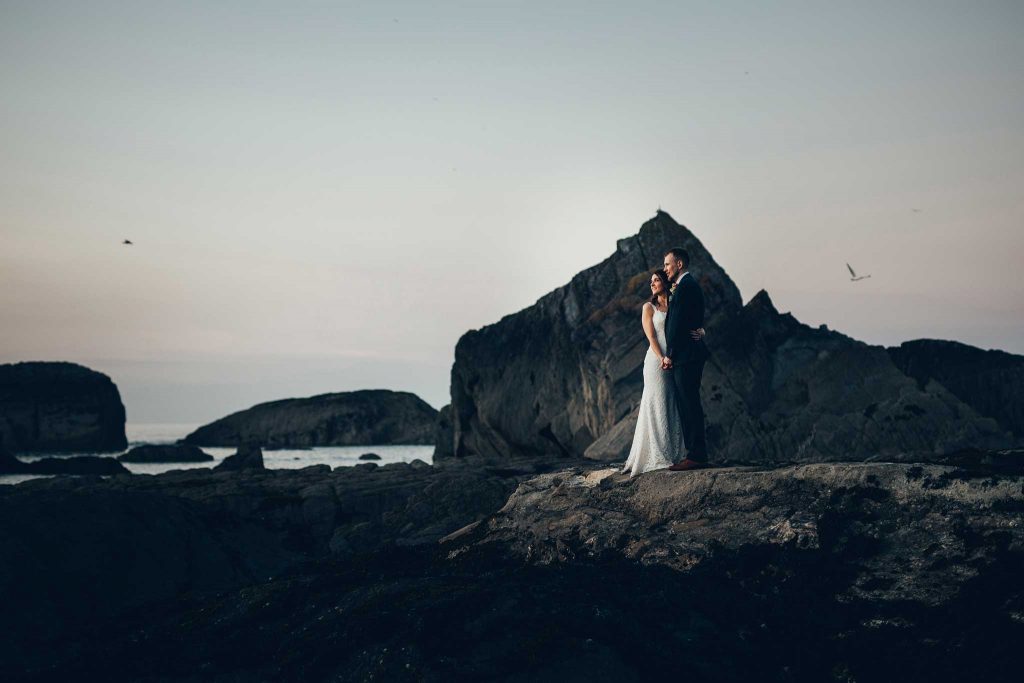 It's 6.00am and already the day is too warm to sleep. So here I sit with a cup of coffee looking out across the view of the village where I live. For some reason Amy and Andy's wedding at the incredible Tunnels Beaches in Ilfracombe suddenly pops into my mind. I thought I should write about it. I loved this wedding (I always love a wedding at Tunnels Beaches). In fact a Tunnels Beaches wedding is beyond perfect. It is an incredibly special place.

So let's introduce Amy and Andy. Super chilled, they love surfing and Andy really likes riding Fat Bikes. In fact, he is really good at the Fat Bike thing. They chose Tunnels Beaches for their wedding as it gave them the chance to celebrate their day as close to the ocean as possible. I don't think you can get married any closer to the sea.
The day starts in mist – a surreal day for a Tunnels Beaches wedding.
As I drove down into Ilfracombe, the sun was shining and the day was warming up. However as I arrived at Tunnels Beaches, the surrounding town was covered in a sea mist. It felt surreal. Patches of blue would peak through and then be enveloped. Amy and Andy had opted to marry outside and the mist created an ethereal feel. It was cool then hot. In fact, during the wedding ceremony it felt like being on a Hawaiian island, with mist swirling around a volcano. Post wedding ceremony we wandered down onto the beach with the bridal party. It was relaxed and informal. Just how I like it. The sun broke through and warmed our souls. We wandered on the sand. It really was perfect.
The best sunset ever and a didgeridoo
The guys relaxed into the rest of the day. Food, a few beers / wine (insert drink of choice), while the fire pit was lit outside Tunnels Beaches. As sunset approached, Amy, Andy and I wandered down onto the sand and round to the tidal pool. The light was beautiful. We had started the day with mist but now we had this incredible sunset. As the sun dipped below the horizon we made the most of the ensuing half light. I love that gloaming moment. Wandering back to the venue, the band for the evening (Echotown) were just sound checking. Somehow the sound of their didgeridoo echoing around the beach just seemed perfect. As the light dipped out we had sparklers on the sand before the wedding party ensconced themselves safe and warm within Tunnels Beaches. Everyone danced. I thought to myself 'I really do love this place'.

So there you have it. Amy and Andy's wedding. It really was the best of days. Time for another cup of coffee and to sit out and enjoy the sun. Enjoy your day wherever you are.