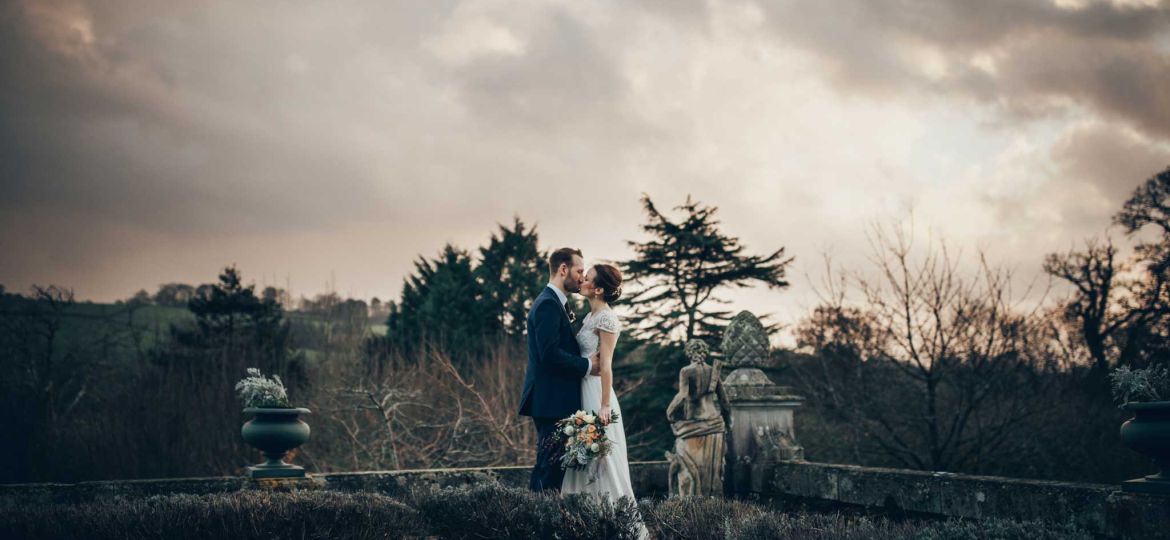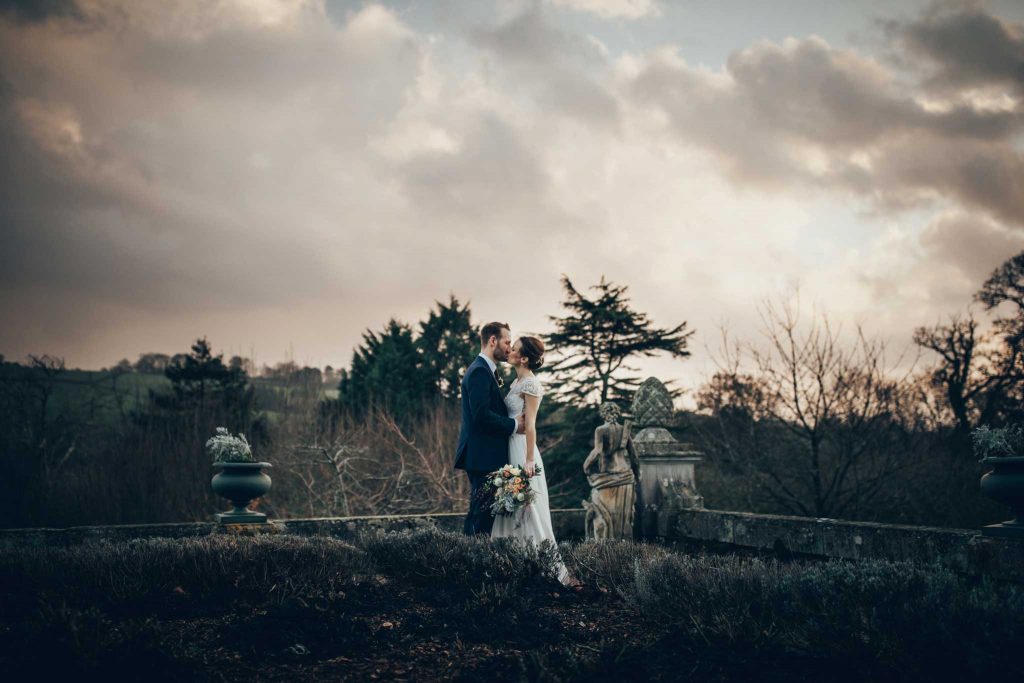 Pynes House, has been on my list for some time. That is, my list of wedding venues that I would really like to photograph at. The problem is that every time I received an enquiry for a Pynes House Wedding, I was already booked. That all changed with Jess and James. A December wedding is always going to be interesting weather wise, but the interior of Pynes House is beautiful and, as I was to discover on the day, the gardens hold a raw winter beauty of their own as well. On the day, wedding co-ordination was by the talented Josephine Royal (she knows hope to get the best from Pynes House), flowers were by the wonderful Sophie Millington and cakes were by the aptly named and also incredibly talented 'Claire makes Cakes' (she certainly does!).
The ceremony
The wedding ceremony was held in the ceremony room at Pynes House. With spectacular views across the valley, it is a beautiful setting. The weather had started to build outside, so confetti was moved indoors to the hallway staircase. Which, to be honest, was a superb location. Indoor confetti, works well. You just need a large enough 'indoor'.
The winter rose garden and the Pynes House wedding
As the Pynes House wedding day moved on, we decided to brave the elements and go outside for the bride and groom photos. The wind had now picked up considerably and rain was threatening. For James and I it was cold. For Jess it must have been absolutely freezing. But the light was not of this world. A rose garden in the winter has a strange beauty. It's like a film negative of a summer rose garden. As we wandered around the garden the light was constantly changing. We worked quickly, but every angle gave a different light. When I was younger I read a book about a garden that changed under moonlight and became another world. In the Pynes House rose garden it felt like this. The winter had created a different world with a inverse beauty. We finished just as the rain came and sort shelter back within Pynes House.
Speeches whilst the maelstrom whirled outside Pynes House
Wedding breakfast, speeches and a first dance. All the things you would at any wedding. But with a storm now raging outside, it felt warm, cosy and welcoming inside this Pynes House wedding.

The end of the day at Pynes House
I finished the day as the party was really hotting up on the dance floor. This was my first Pynes House Wedding and I am so looking forward to returning to this wonderful venue. I need to see that rose garden in the summer.