Leah and Ian – Treyarnon Bay Festival Wedding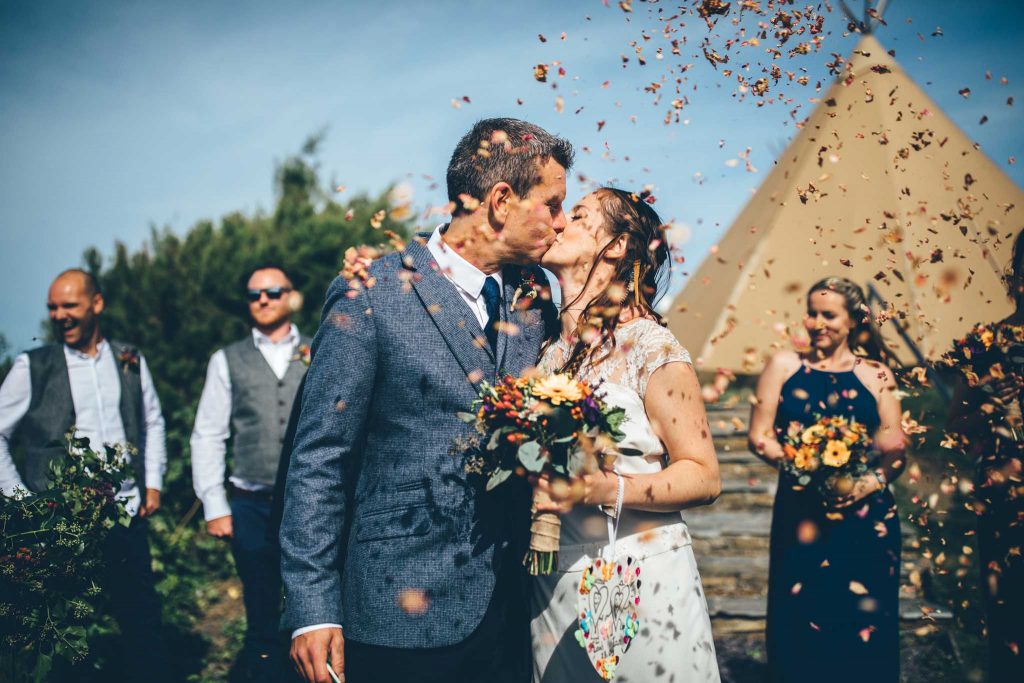 I love a festival wedding. I really do. They just always feel right. Working in the south west photographing weddings across Cornwall and Devon it is incredible how popular festival weddings are. It must be something in the culture. However, there is always that slight risk: will the weather on the day be fair or foul? And this is, of course, the same risk that any festival organiser will face.
Leah and Ian had shaped their wedding day around the cliffs overlooking the beautiful Treyarnon Bay in north Cornwall. They were blessed with sun and surf on the day (with a touch of a strong wind – but then you can't have everything). For the wedding they had taken over Treyarnon Bay Youth Hostel. Perched above Treyarnon Beach, it made an ideal location to erect one of the Cornish Tent Company's incredible Giant Hat Tipis. They really give a festival feel to a wedding and they were perfect for the day. With the bridal preparation underway down the road, the groomsmen concentrated on the finishing touches for the day. Leah and Ian had asked for their friend Timmy to marry them. With a resplendent black Moroccan cape he definitely looked the part. Flowers and buttonholes had been beautifully crafted to go with the festival theme by Ginny's Flowers.
The bridal procession to the venue was a beautiful thing to witness: the bride's family and friends walking down a Cornish lane to the ceremony was just perfect. You can plan for these days, but only on the day will you know if you have been blessed with the weather. Ian and Leah certainly were. The ceremony was fun, poignant and meaningful with the focus not only on Leah and Ian, but also on those who were not able to be there in body but who were certainly there in soul.
With the ceremony over, the guests were then treated to music throughout the day. Guests were dancing on the lawns with a stunning backdrop and one of the best sunsets I think I have ever photographed. There was a lot of laughter and as the sun set and the night drew in, fire pits were lit to keep everyone warm. That is what a festival wedding is all about.
Planning a festival wedding? Give me a shout, I would love to talk. If you are thinking of a festival wedding, have a look through these images. It may make your decision easier. What if it rains? It doesn't matter, just put on your wellies and dance the night away like you would at any classic British festival. Rain or shine, it does not matter, you will have the best day ever.