Holly and Mark – The Green Wedding Photographer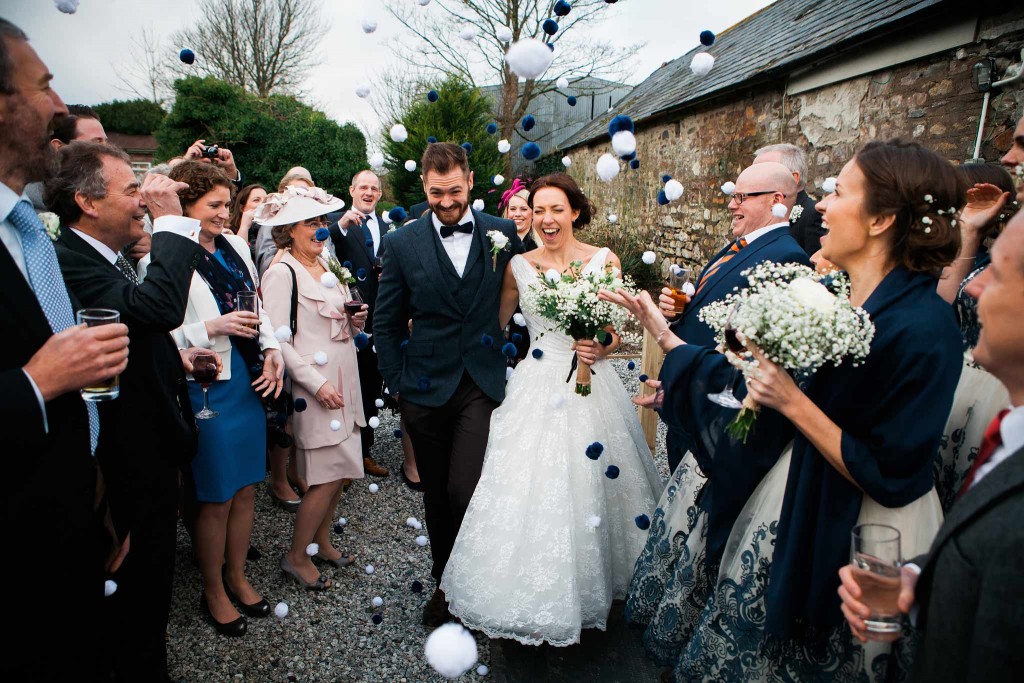 Some people would be worried about the potential weather when holding a wedding in January. Not Holly and Mark. They decided to embrace the weather, whether it was rain, wind, sunshine or snow. They were going to enjoy their day come what may. Which is what they did. They had chosen the very lovely 'The Green' near Liskeard for the ceremony and reception. Perched on the edge of Bodmin moor, this is a truly unique venue. Rural seclusion with a high quality edge. The day started with bridal preparation in the main cottage and groom preparation in one of the smaller chalet buildings. I flitted between the two, capturing the story unfolding within the two wedding parties. I love documenting the back story at this part of the day – there is just so much going on. In the ceremony room (a lovely old barn), a musician friend of the bride and groom was rehearsing. The bridesmaids had surprised Holly and Mark by flying him over from America. Listening to him practice, I could hear why. He was awesome.
For the ceremony, the barn was packed. Thee was an incredible atmosphere. Wedding ceremonies, always seem to fly by. This was no exception. In no time at all we were outside for one of the more surreal parts of the day. Rather than using confetti, the bride and groom had chosen to use pom poms. Yep, you read that right, pom poms. Check out the photo below. As always, I captured reportage of the guests, before Holly, Mark and I went for a walk in order to capture some photographs of them together. As a wedding photographer it is always lovely to meet couples who want to be creative with their wedding photography. One of my favourite shots from the wedding is the one of Holly and Mark with their umbrellas. Despite the rain, they were happy to oblige my request of 'it would be really great if you….'. I love the results we got.
Back to the venue and it was time for the wedding breakfast and speeches. Once again, there were many more opportunities for capturing great natural looking photographs. With the first dance and the evening, the party really hotted up. I am not sure when I left, but it looked like the party was going to go on all night.
Thanks Holly and Mark. You were an awesome wedding to start 2016 with. For anyone, worried about the weather on their wedding day. Have a look at Holly and Mark's photos. Who needs sun when you have got love 🙂
You can find more Real Weddings at Toby Lowe Photography.